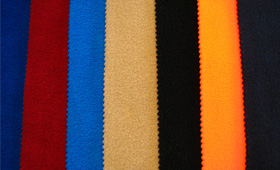 Polar Fleece – woven or knitted?
Fleece Factory BIRUNA S.A. is a producer of polar fleece and high pile knitted fabrics. It often happens that our customers call our products woven fabrics. For someone not familiar with textile it is difficult to indicate the difference between woven and knitted fabric.
The woven fabric is produced with looms, where among longitudally oriented yarn of warp another yarn of weft is perpendicularily intermingled. Thanks to this construction such a fabric is very stable, with low elasicity.
The knitted fabric is produced with knitting machine, where yarn is formed in loops. As a result we obtain much more elastic material, stretchable in both directions. According to this criterion polar fleece produced in BIRUNA is definitely a knitted fabric. Thanks to fleecy, pile surface it is elastic, lightweight and very warm.
Let's say it again – polar fleece fabric is a knitted one.